LINKING TO PROGRESS: ASSESSING PUBLIC INTERNET USE PATTERNS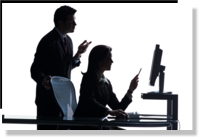 The American Academy of Spine Physicians (AASP) has linked up with a research group to help keep its members informed about Internet use in Healthcare. The Pew Internet & American Life project provides up to date information about the evolution of the internet and its role in healthcare. The mission of the Pew project is to produce "reports that explore the impact of the Internet on families, communities, work and home, daily life, education, health care, and civic and political life. The Project aims to be an authoritative source on the evolution of the Internet through collection of data and analysis of real-world developments as they affect the virtual world."
According to Pew project statistics on the average day at the end of the year 2004 approximately 70 million American adults logged onto the Internet. This number represents an approximate 37 percent increase from the 51 million Americans who logged onto the Internet during an average day in the year 2000. These numbers are projected to continue to grow. The faster the Internet access is the more time an individual is likely to spend online. Increased use of broadband or other speed enhancing technology will only increased the number of people who use the Internet for healthcare but it will also increase the amount of log on time per user.
According to the Pew project, eight out of ten internet users have looked for health information online. This includes looking for information about diet, disease/disorders, fitness, drugs, health insurance, treatment options. Research has shown that many of these individuals use the internet to look for doctors, healthcare facilities and hospital. Pew studies also revealed that eight out of ten internet users have looked online for information on at least one of 16 health topics with increased interest since 2002 in diet, fitness, drugs, health insurance, experimental treatments and doctors. ( The Pew Internet )
The American Academy of Spine Physicians is dedicated to educating its members, their patients and the public about the spine, spinecare and availability of spine physicians. The AASP fully recognizes the importance of the Internet Is has implemented a variety of unique online resources inlcuding the National Directory of Spine Physicians, the comprehensive multimedia Online Public Information Center (PIC) and a link of online publications which can forward to others.